Overview
Both routine and unique glassware are fabricated in the Glass Shop, staffed by a professional glassblower. Specialized equipment, including two lathes, drills, saws, and glass grinding and polishing equipment is available. Instruction in the art of glassworking is also available.


About Don Garvin
From the Bloomington Herald-Times


Add one part Pyrex glass, one part flame and one part Don Garvin and what do you get? A scientific glass blower who can make you pretty much anything you want from a tube of glass.

Garvin is a third-generation glass blower in the chemistry department at Indiana University. His workshop is located in the basement of the building where the department is housed.

A majority of the glassware he makes or repairs is for undergraduate and graduate students performing experiments in chemistry. But, he also does work for several other departments on the Bloomington campus as well as the regional campuses around the state. "I'm the only glass blower in the Indiana University system," Garvin said. "Anything that has to do with glass-blowing needs comes through my doors."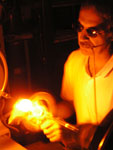 Occasionally, a student will come to him with an idea sketched on a napkin during a brainstorming session at the coffee shop. It's Garvin's job to determine if the idea will work and to help execute the piece in glass. "In the research environment, you're oftentimes asked to solve puzzles" he said. "So that makes you think kind of creative. Sometimes you design on the fly, sometimes you take an existing piece of glassware and modify it; you try to understand what their goal is and then how can you apply your skills and your techniques and your knowledge to help them meet their goal," he said.

After more than two decades of making countless columns and manifolds, Garvin still enjoys working with the students. "Yeah ... you may keep doing the same thing in some regards, maybe little variations of it, but you meet new people," he said. "The fun part is working with the professors and the students," he said. "A lot have just invested their whole lives on this opportunity."